A key feature of life's diversity is that some species are common but many more are rare.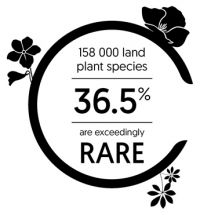 Rare plant species are far more likely to go extinct than common species, especially given current human pressures on land use and anthropogenic global climate change, yet we know surprisingly little about global patterns of plant rarity and even what proportion of the plant species on earth are rare.
However, with the rapid development of biodiversity databases and networks in the past decade, it has become increasingly possible to quantify continental and global patterns of biodiversity and to test competing models of these patterns at a global scale. Working with scientists from around the globe, Dr Susan Wiser from Manaaki Whenua recently took part in the largest compilation of global plant diversity, using more than 200 million observations of plant species occurrence, to find out the fraction of Earth's plant biodiversity that is made up of rare species.
The research, published in Science Advances, was startling – showing that for all known land plants, many more plant species are rare than previously thought. The team estimated that close to 36.5% of Earth's c. 435,000 land plant species (that's around 158,000 species) are exceedingly rare.
The study was published to coincide with the UN climate negotiations that took place in Madrid in January 2020, as the researchers also showed that climate change and human land use impacts are now disproportionately affecting areas with larger numbers of rare species. These new estimates of global species abundance have important implications for risk assessments and conservation planning in an era of rapid global change and potential species extinctions.
Dr Wiser thinks that it would be very interesting to re-run the study at a New Zealand scale. 'Although we already know that in terms of plant rarity, that regions such as northwest Nelson and Northland are standouts, it would be useful to document and map secondary patterns of plant rarity across New Zealand, to better underpin informed conservation and environmental planning and management decision making.'