Every year, under the United Nations Framework Convention on Climate Change and the Paris Agreement, New Zealand is obliged to report its national human-produced (anthropogenic) greenhouse gas emissions and removals. With average soil carbon stocks in New Zealand's agricultural soils estimated at about 100 tonnes per hectare in the top 30 cm, changes in soil carbon could make a significant contribution to our national carbon footprint.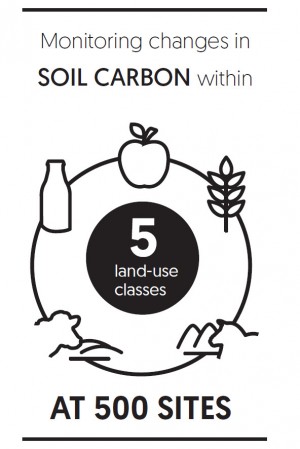 However, there are few direct measurements of soil carbon change available, and the data we have are largely based on historical soil survey sampling sites unrepresentative of agricultural land in New Zealand. National-scale changes in soil carbon are currently estimated using a statistical model that predicts changes in soil carbon associated with changes in land use between broad classes (e.g. forest to pasture).
To provide the necessary data, Manaaki Whenua has received funding from the New Zealand Agricultural Greenhouse Gas Research Centre (NZAGRC) and the Ministry for Primary Industries (MPI) to begin the first phase of a new nationwide baseline soil carbon measurement study.
The overall plan is to monitor changes in soil carbon at 500 sites across the country within each of five broad land-use classes: cropland, horticulture, dairy pasture, flat-rolling drystock pasture, and hill-country drystock pasture.
Baseline soil carbon measurements will be made at 110 sites each year for the next 4 years to take the total number of new sites to 440. Sixty sites in hill-country drystock pastures were sampled in 2018 and make up the remainder of the 500 sites.
Sites will then be revisited on a 4-year rolling resampling to determine any change in soil carbon. The system is designed to be able to detect a change of about 2 tonnes of carbon per hectare within each of the five classes.
This national benchmarking is being complemented by work to enable farmers to determine soil carbon on their individual farms. Many farmers want to know how much carbon their own soils contain and how those stocks are changing. Interest from farmers is recognition of the importance of soil carbon for overall soil health and the potential for soil carbon to offset greenhouse gas emissions. Our scientists are currently working with consultants and farmers to create user-friendly, on-farm soil carbon measurement systems.
Working at these different scales – from single farms to national totals – our scientists are gradually building a clearer picture of how New Zealand's soil carbon measures up, and where farmers need to focus their attention to maintain or increase their own soil carbon stocks.
The national soil carbon monitoring project is a collaboration between Manaaki Whenua and the University of Waikato, and is funded by the NZAGRC and MPI. Funding for the initial statistical design phase came from MPI via the Global Research Alliance on Greenhouse Gases.